Hampton Beach Camping
Jay and I took advantage of opening day weekend at Hampton Beach State Park to do a short RV shake down weekend. Usually, getting a camp spot inside the park is difficult. Like all state/national park systems you need to book well in advance and with out schedule that is often difficult.  We like camping at the beach as it is close to home and allows us time to get away and still work.  Our only issue is wifi.  We simply depend on our electronic devices way too much!
Hampton Beach Camping
Shake Down weekend was a success! It's always nerve wracking as you never know what issues you may encounter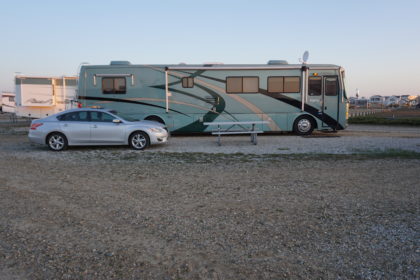 with your rig/camper especially if it's sat all winter.  We did not encounter any issues!  Thank Goodness!   Now we need to finish stocking it up for the season and dream of our M&J RV Travel Adventures!
Hampton Beach camping is so relaxing and so much fun for us.  I love getting up early and catching the sunrise as it rises over the ocean.
Check out my sunrise video and you will understand why we love Hampton Beach Camping

Check out our home on wheels

Sunrise Walk at Hampton Beach with my new mic