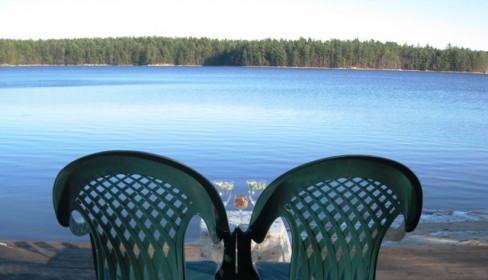 Big Island Pond is a 500 acre pond that sits in the middle of three towns, Atkinson, Derry, and Hampstead.
This is a private pond and there are no public beaches for town folks or for someone driving around  that can stop and jump in.  You would have to know someone who lives on the pond to help you gain access. Towns people do have an opportunity to get a key to the boat ramp to launch their boats for a nominal fee.
We have sold many homes on the lake and a lot of our buyers have allowed us to launch our kayaks from their beaches. There are a lot of little coves around the pond where you can kayak and not get bothered by the bigger boats. Kayaking on the weekdays makes it that much more enjoyable as the weekends can get busy.
There is some great fishing and I am sure the locals will tell you where the great fishing spots are.  There is also a sandbar out on the Derry side of the lake where people beach their boats and let the kids jump in the water and have some fun time.
Please see below new listings on Big Island Pond.