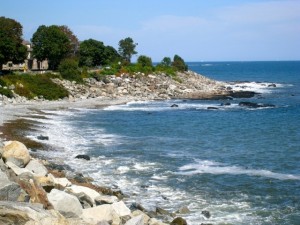 While our New Hampshire coastline is just a tad under 18 miles long, it contains a little bit of everything. From long sandy beaches, working harbors and ports, offshore islands, quaint historical towns and mecca shopping areas.  There is bound to be an area that meets your needs and living on or near the coast is a dream many folks have. Now more than ever owning a coastal property is much more affordable and with in reach.
While, my husband and I don't live on the coast, we have spent many years exploring the nooks and crannies of the New Hampshire coastline and would love to show you all we have learned and love about the New Hampshire seacoast.
Seabrook New Hampshire
Situated just over the Massachusetts line is the lovely town of Seabrook New Hampshire.  Seabrook Beach is one of  New Hampshire's true gems and one that not many people know about.  It has two miles of spectacular white sandy shoreline and a perfect location, within an hour's drive to major cities such as Boston, MA, Concord, NH and Portland,Me.  Seabrook offers both modest cottages and luxurious mansions and has a relatively healthy coastal real estate market.  For more information about Seaboook please visit the town website http://www.seabrooknh.org  and for more information about the Seabrook NH real estate market please contact me at e-mail Monika or call/text me at 603-548-7728
Hampton, New Hampshire
Hampton Beach has been a  popular beach destination for many years.  Recently, named one of the top beaches in New England, Hampton has benefited from the revitalization of Hampton Beach. After a devastating fire that destroyed many business the area has been rebuilt and is flourishing.  During the summer season there are nightly concerts at the Sea Shell stage and fireworks every Wednesday evening.  Hampton State Park has a small waterfront campground that is very popular. North Beach, also part of Hampton, it is quieter then Hampton but just as lovely if not more so.  Hampton New Hampshire real estate has mixed pricing and offers opportunities for all budgets.  Visit the town of Hampton's website http://www.town.hampton.nh.us/ and the beach website for more info on beach events at http://www.hamptonbeach.org/and please contact me for Hampton NH real estate information e-mail Monika call/text me at 603-548-7728.
North Hampton, New Hampshire
In North Hampton you'll find magnificent oceanfront estates, small residential neighborhoods and retail establishments. The town prides itself in Education and is well known in that arena.  Joggers, kayakers, surfers, divers and swimmers enjoy the Atlantic from the Little Boar's Head area. North Hampton State beach is a popular destination for many. For more information about North Hampton visit the town website at www.northhampton-nh.gov and for all your real estate information e-mail Monika call/text me at 603-548-7728.
Rye, New Hampshire

Rye is absolutely beautiful! The  community has stately colonial homes, wonderful seaside mansions and a quaint village. Housing options range from colonial era to the most modern of contemporaries . Rye  has more coastline than any other town in New Hampshire with panoramic views of ocean and the Isles of Shoals.  Rye Harbor is a working harbor with whale watching cruises and deep sea fishing expeditions. Rye is a very popular spot for visitors  who enjoy Jenness Beach, Wallis Sands Beach and Odiorne State Park, a 137 acre oceanfront park. For more information about Rye visit the town website at www.town.rye.nh.us
Portsmouth, New Hampshire
Portsmouth NH boasts a lively social and cultural scene with dining, dancing, theater, concerts, museum activities, galleries, and excellent shopping.  Portsmouth is the 2nd oldest city in New Hampshire and much of it's  i historical sites and buildings have been preserved.  Portsmouth is a deep water port, very much a modern large city with old world charm. Real estate is bustling and offers a wide variety of homes and condominiums. For more information about Portsmouth visit the town website at www.portcity.org
New Castle, New Hampshire
The smallest town in New Hampshire, and the only one located entirely on island.  The main island on which the town sits is the largest of several at the mouth of the Piscataqua River.  New Castle is a wonderful area and boats true pride of ownership through out.  For more information about New Castle visit the town website at http://town.newcastlenh.org
Please contact us for all your seacoast NH real estate needs.
Monika and Jay McGillicuddy 
E-mail Jay or call/text at 603-548-7685
 E-mail Monika   or call/text at 603-548-7728.
Berkshire Hathaway HomeServices Verani Realty
81 Water Street
Exeter, NH 03833
Jay and Monika 603-944-9172
Office Phone: (603) 772-0600